The June SP Futures
The model is now long with a close yesterday above 1579.10...
However, based on the market weakness since this recent confirmation, a new sell signal has been generated as of this morning...
For today, Friday April 26th, a close below 1587.90 would confirm yet another main model sell signal... these rapid fire signals are clearly indications of a possibly much more significant market topping action...
Notice, the sell signal confirmation price is now above the market... although the market is weaker this morning, it could as easily recover and nullify this new pending sell signal which was immediately generated by this weakness... clearly, this market is approaching a critical phase...
Take another looks at the NT Indicator below, this is as of yesterday's close... you can see how the market did rally after the low spike was made... now, the NT is approaching the upper levels of its typical range... this doesn't mean that the market must move lower from here, but it does mean that the market is again beginning to approach an over bought condition... and now, another possible main model sell signal for today makes the NT Indicator appear a little more menacing...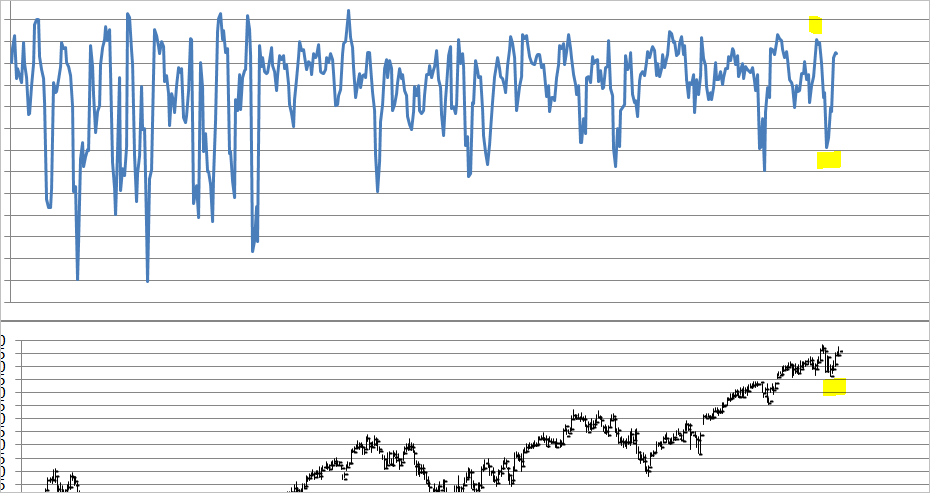 There two upside VPs are as follows: (provided the current sell signal is not confirmed)
minor - - 1596.40 (this VP has not been reached, and if a sell signal is confirmed today, it will not be reached)
MAJOR - - 1623.10 due no later than Thursday, May 30th
The June Gold Futures
The model has been short gold since April 1st with a close below 1601.90...
At this moment, gold is trading at 1463.10...
Gold has two VPs, both are still above the market, and the gold market is getting closer to its VPs each day... the first VP is at 1497.20... gold must close above this VP on Tuesday June 11th for an automatic buy signal to be confirmed... the second VP is at 1509.70... gold must close above this VP on Friday, May 31st for an automatic buy signal to be confirmed... as for now, the model remains short gold...